Think of most well-known and cool website names you use every day. Probably you are thinking of Google.com, Yahoo.com and Twitter.com but have you noticed all these popular website names are short, simple, as well as create a message that sticks with you long after you leave their pages or websites? Yes this is the power of brands and Google, Yahoo or Twitter all picked unique brandable domains instead of keyword rich domain name. Again, if you visit technorati.com's top 100 blogs you will notice sites like mashable.com, gawker.com and gizmodo.com are in top 10 and interestingly all these cool blog names do not have any dictionary meaning rather these are all inimitable words and creative blog names.
Popular Company Names Are Creative
Now think of some great & cool company names you know today. Surely companies like Fedex, Esmark, Armour will come to your mind first and coincidently these companies names are also short as well as creative and unique words. So, now you understand the popularity, importance also significance of unique, brandable & short domain names. The brandable name is in place so that visitors can easily remember it and return again. It also aims to make a website more popular plus cool by its short, simple & catchy qualities. And if you are looking for a unique word as well as brandable & short domain name like those websites or blogs or companies then you are in the correct place because you will find lot of unique business name ideas and brandable domain names like those companies in our random domain list.
Brandable Business Domains Are Valuable
Brandable name provide an aspect of marketability that is different from other domain strategies (generic domains or domain hack). Like other strategies, branded names work to increase traffic as well as hits and eventually help with business. In fact, brandable business names are the type that business value most. If you search "brandable domain names" or "company name ideas" in google you may discover website like brandbucket.com who sells brandable company names or domains for thousands of dollar. If you browse those websites you will see they say brandable domain names for sale or company names for sale or cool business names for sale etc. basically they are selling creative and unique words.
On the other hand many companies hire marketing agents or other creative name brainstorming experts like frozenlemons.com whose sole job is the finding & creation of catchy plus creative company name ideas. And people are buying creative business name ideas from them just because innovative or cool domain name will leave a lasting impression with customers or site visitors in general. The point of creating a brandable name is to catch the eye of the visitor and to leave them with a short, catchy plus wow title for your website. Instead of this expensive method, you can select a name from our random list for free or you can even use our creative name generator or domain name suggestions or else website name generator tool to get business name ideas.
Our Domains Are Handpicked & Outstanding
Considering the popularity & importance of creative plus brand able domain names we have selected and picked only unregistered, short (five, six or maximum seven letters), pronounceable (since all are handpicked) and most importantly memorable domains for you. Here is an example :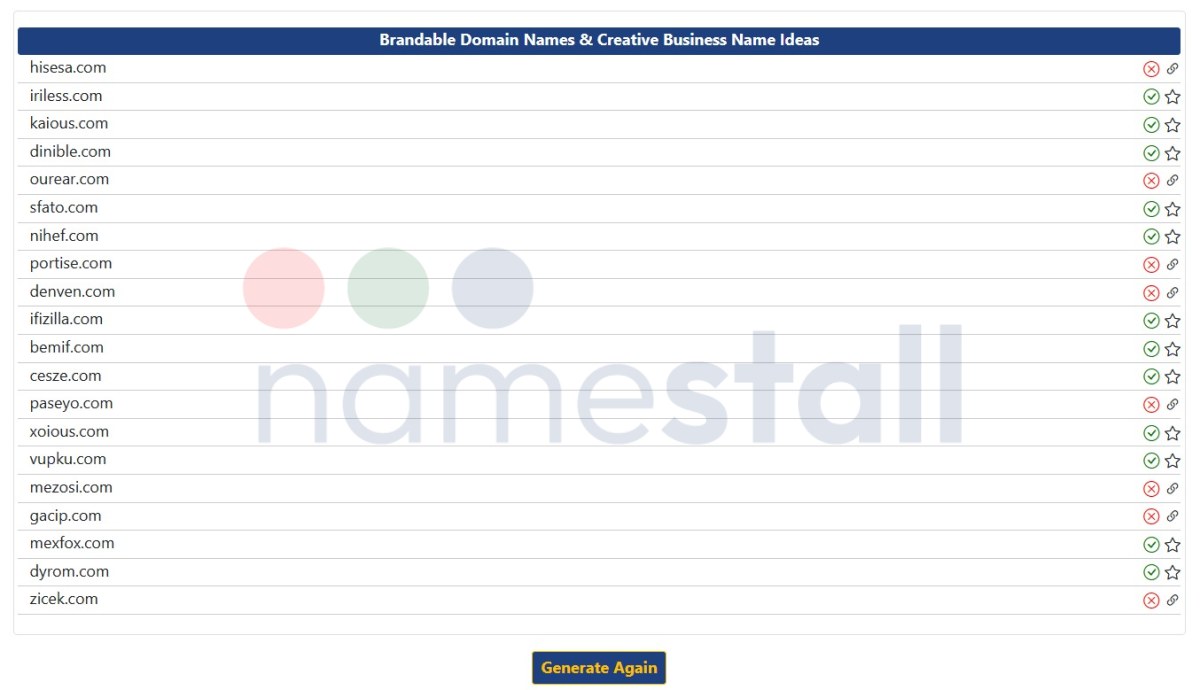 Brandable plus unique domain names will always stand out and people say - If you want to stand out, don't be different; be outstanding, our handpicked ingenious brandable domains are - Not Different but Outstanding. Just hit "Generate Again" button to generate another 20 news brandable & creative business name ideas.