3 letter domains and 4 letter domains offer several big rewards to their owners. These domains are popular and very valuable because they sometimes spell popular words. These domains can then become some of the most popular online brands for the products to which they refer. Examples are "ipod.com" or "bow.com". When this happens, their value skyrockets and they can be resold for a large profit. That is because these are marketable and tend to receive natural internet traffic. Another reason they are popular is that their letters might refer to the letters in the name of businesses and "IBM.com", "MSN.com" are some examples. Three letter domains or four letter domains offer lucrative rewards and can thus give you the name you have been dreaming of.
3 & 4 Letter Domains are Valuable
If you are lucky enough to acquire 3 character domains or even 4 character domains, you can make a nice profit. For example, OMG.com sold two years ago for $80,000. And Sex.com once sold for around 12 million. And great many 4 and 3 letter domains are for sale in different websites. Even you can take your three or four character domain names to sites like sedo.com, godaddy.com, buydomains.com, snapnames.com or any other auction site and sell them to local or international buyers or domainers. Getting these kinds of names are thus some lucrative and profitable investments. You will want to consider which letter combinations might be popular and worthy down the road.
Start Your Domain Hunt Today
The main problem with this kind of small letter domain names or dictionary domain is they are hard to find and acquire. Because they become valuable and are often readily usable, these names are rare. Even if you use expired domains tool or search domain whois you will see these types of domains hardly expires. This is where our tool can help. We will provide lists of possible all three, four and five letter domain names. You may not find the 3 or 4 letter names you were looking for, but luckily we show multiple TLDs like .com, .net, .org, .biz etc. It means if you cannot find your name in .com, .net or other popular gTLDs, it may show up in other ccTLDs like .us or .co.uk or .co etc. Our unique tool will increase the probability of your success.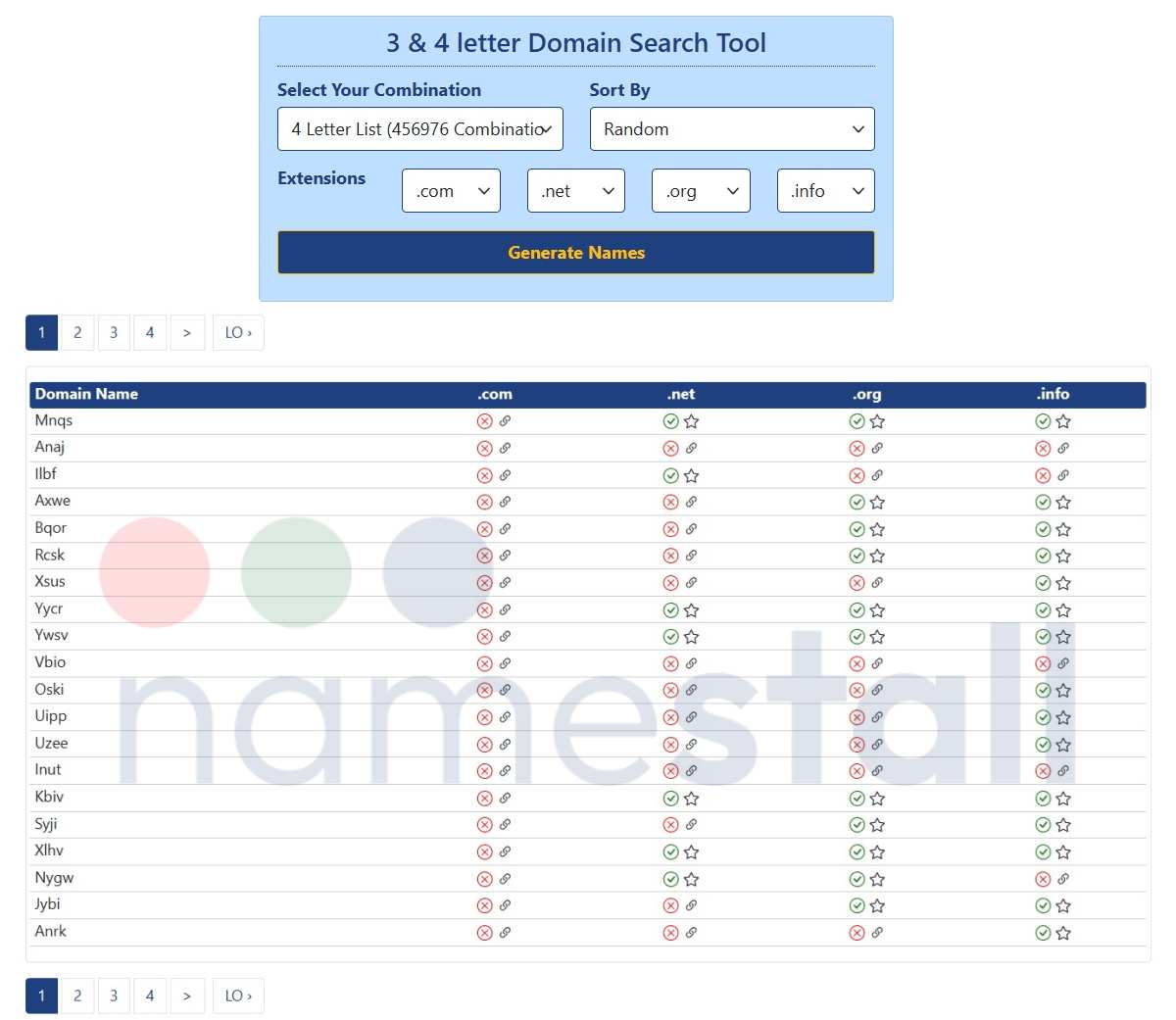 In fact, knowing all the combinations of three and four letters are extremely important for any domainer. You need to know all the available & possible combinations to make an informed and correct decision. Our amazing and revolutionary tool can make this easier for you. Exploring all combinations would be almost impossible with manual entry; you would have so many possibilities to explore. It is much easier to operate our search engine to explore the massive letter combination databases. We can provide an extensive list of all three as well as four letter combinations (including numbers and hyphens), letting you make a choice with all information at your disposal. We show every possible 3 letter domain name combinations as well as 4 letter domain name combinations, which mean you will explore all possible combinations with numbers as well as hyphens.
How to Use Our Tool
No doubt, if you really are a domain hunter you will love this exclusive tool. Like our top paying keywords domain search tool, we designed this tool in such a way that all you have to do is just select your word group and extensions and search. When you hit search button our domain name search tool will start searching for availability for that word group in 4 different extensions at once.